Codina breaks ground on Downtown Doral apartments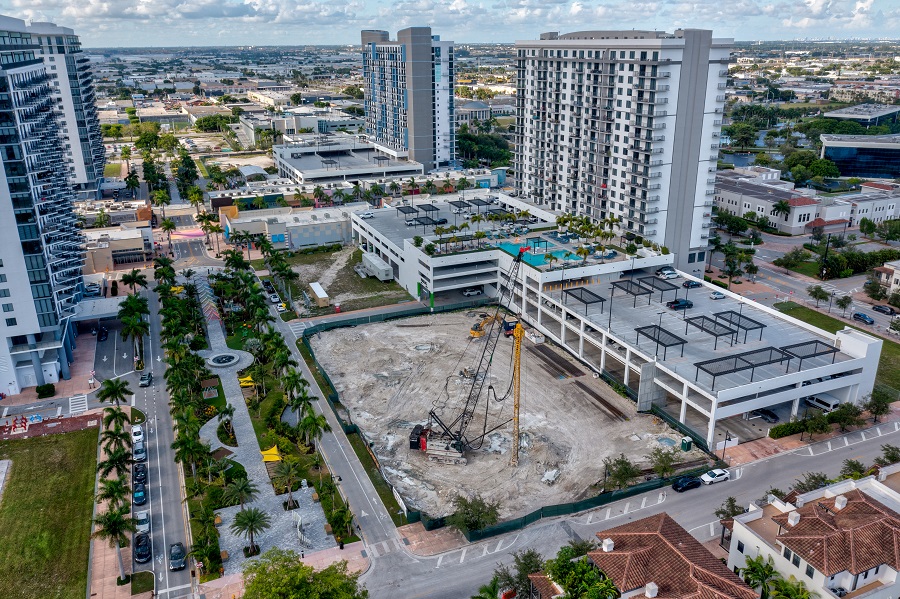 Photography by Tony Tur. 
An affiliate of Codina Partners broke ground on a 20-story apartment tower in Downtown Doral after obtaining a $55.73 million construction loan.
Wells Fargo Bank awarded the mortgage to 5225 Paseo LLC, managed by executives at Coral Gables-based Codina Parnters, the master developer of Downtown Doral. The project will rise at the northeast corner of Northwest 52nd Street and Northwest 85th Avenue, which is just south of the retail streetscape of Downtown Doral. The official address of Paseo Tower will be 5225 N.W. 85th Ave.
CC Residential, the general contractor affiliate of Codina Partners, filed a notice of commencement with the county that it started work on the project, which would have 228 luxury, market-rate multifamily units. It was designed by Miami-based MSA Architects.
"After the immense success we've experienced with our other luxury residential offerings, enriching and expanding Downtown Doral with this new tower demonstrates the popularity of our community and the current demand for high-quality rentals," said Ana-Marie Codina Barlick, CEO of Codina Partners. "Residents of the new Paseo Tower can expect unmatched level of design, amenities and service set within a culturally rich destination where food, entertainment and more are all just steps away."
The 5225 Paseo apartments will join many other residential options at Downtown Doral, a former business park that Codina Partners has transformed into a mixed-use community. There's already the 5250 Park apartments, the 5350 Park condos, the Canarias single-family homes, and the Urbana condos/townhouses. Paseo Tower will share the amenities of 5250 Park, including a pool, a gym, a theater room, an event room, a meeting room, and a dog spa.
Downtown Doral also has a retail center, offices, a charter school, a park, City Hall, and a future University of Miami Health System facility. The Doral Cultural Arts Center will open there by the end of this year.
Courtesy of South Florida Business Journal. 
Share this article