Start Spreading The News, New Yorkers Are Leaving Today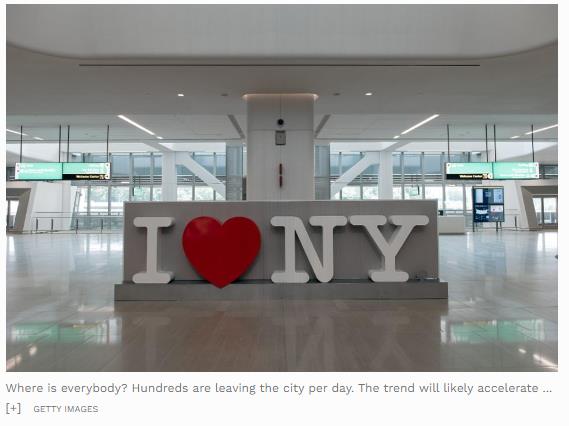 Armando Codina is an unhappy New Yorker. So unhappy, in fact, he created a website about it to find more like minds. Now, no longer alone, he is a very happy Floridian.
"New Yorkers used to come to Florida to buy a second home. Now they are coming down here to live," he says.
It's simple, really. Money. You can save more money in Florida.
And if there is one thing the pandemic and the recent protests have showed people living in the tri-state area, Manhattan, Jersey City, White Plains…these are no places to be in a public health emergency. Civil strife and scary times center around the city. Has anything similar occurred in Fort Lauderdale, Miami, West Palm Beach, Naples, Orlando, Tampa Bay…?
While Miami also had protests following the death of George Floyd at the hands of police in Minneapolis, it hasn't been as continuous in New York. And the pandemic was not as bad there. Restaurants have been opened for weeks now.
Post-pandemic will likely accelerate the trend to the Sunbelt states. Florida is in the lead.
Who needs all that Manhattan office space, anyway? People are now discovering they can get as much done at home as they do in a money-sucking midtown high rise.
Broadway theaters are closed. There's now a proliferation of Zoom-camera themed virtual shows for theater buffs to get their theater fix.
Escape from New York accelerated with the Republican tax cuts. The elimination of the state and local tax deductions did the city in. Even Governor Andrew Cuomo admitted as much.
In 2018, the New York metropolitan area was losing 100 people per day on average, most of it to Florida. Now it is closer to 270 per day.
The reduction of the state and local tax deduction doubled the percentage rate of taxation for those living in the city. The deduction is now limited to $10,000 for state and local taxes.
"I have been having this conversation for a while now with people in my circle. I own auto dealerships in Long Island and New Jersey (MBB Auto Group). I have a place in New York. I have a farm in Connecticut," Codina says. "I am very careful about the amount of days I spend in New York now."
State and local income taxes in New York are about 13% for high earners. People used to be able to deduct it from their federal income taxes, bringing it down to around 6.5%. That's gone. So Codina began his campaign of unhappy New Yorkers to woo them to his Florida real estate properties.
His firm, Codina Partners, has two new developments — one in Miami and the other in Naples. They were not expecting any buyers during the pandemic. Instead, people from the Tri-State area surpassed expectations. They came. They saw. They relocated.
Their Canarias at Downtown Doral (in Miami-Dade County) property sold 175% more homes in May 2020 than in May 2019. Their Maple Ridge (in Ave Maria/Naples) sold 33% more homes sold in May 2020 than in May 2019. Not all will be permanent residents.
Two years ago, Barry Sternlicht's Starwood Capital Group started poking around Miami for office space. He already had a house there, but clearly he wanted to live the expensive Tri-State area. He didn't want anyone in government to know that he was considering bailing on Greenwich, Connecticut because — supposedly — he didn't want to feel pressured by politicians to stay. So when he found a place, the idea was that he would announce his move and it would be final, people close to the deal said. He found a place and his company is now headquartered there. He's a Floridian now.
Others in the financial markets have been moving for years, with some tip-toeing out of the city after the September 11 terrorist attacks. The coronavirus pandemic is seen as being a similar pull, judging by recent home sales at just two properties owned by Codina.
It's not just the high end earners moving.
The lower to middle class income earners are also leaving New York, and the costly northeast in general.
Alexandria Ocasio Cortez's mother left New York a couple of years ago, citing the high cost of living and taxes.
Cuomo has been very open in saying that people leaving the state is like having a major heart attack. High income earners leaving is one thing. But entire companies leaving does serious damage to New York's tax base, a base it needs in order to fund essential workers and services, let alone city pension plans.
There are two things New York state and city need to do: raise taxes and cut services. Mayor Bill DeBlasio is already toying with charging more for people using Lyft and Uber UBER -2.3% in Manhattan.
With the protests of late, New York's midtown looked a bit like south Florida right before a hurricane. Stores were boarded up to protect from property damage.
"I was watching CNBC the day the NYSE started trading on the floor again a couple weeks back," Codina recalls in a phone interview this week. "If you went to work at the Exchange, you couldn't go inside if you came in by the subway. So no one who worked there got there by train. Unless you are living downtown, in those expensive apartments, you couldn't work," he says. "And you're paying $5,000 a month to live near the Exchange. You can buy a house for that, keep most of the money, and have a totally different quality of life. It's not a mass exodus, but I am pretty sure it's a trend that's not going away."
Courtesy of Forbes
Share this article