ARMANDO CODINA
Executive Chairman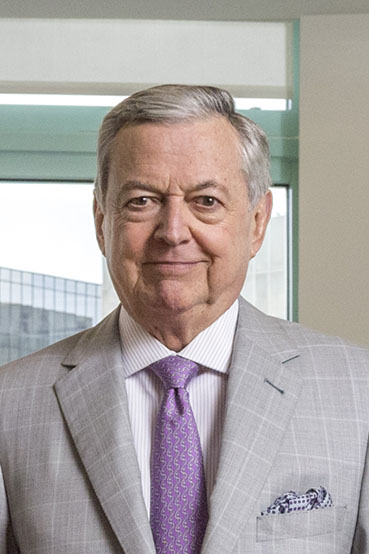 Armando Codina is Founder and Executive Chairman of Codina Partners, LLC, a real estate investment, development, and property management firm based in Coral Gables, Florida. The firm's portfolio is comprised of residential, commercial, and mixed-use projects including the over one-billion-dollar investment in Downtown Doral, the more-than-one-million-square-foot industrial complex, Beacon Logistics Park, and the transformational ultra-luxury residential rental tower, Regency Tower, which is expected to break ground in the coming months within Downtown Coral Gables. The 250-acre, mixed-use development of Downtown Doral is composed of more than 5,000 residential units, over one million square feet of office space, 250,000 square feet of retail space, Doral Government Center, Downtown Doral Charter Elementary School and Downtown Doral Charter Upper School, Downtown Doral Park, and the soon-to-be-completed Doral Cultural Arts Center. Codina Partners and its affiliates are engaged in multiple real estate development and investment activities. The single-family and townhome affiliate, CC Homes, is rated one of Florida's top builder-developers and multi-family affiliate, CC Residential, has developed more than 3,500 multi-family units since its founding in 2011.
Previously Mr. Codina served as Chairman of Flagler, a full-service commercial real estate firm headquartered in Coral Gables, Florida. Prior to that Mr. Codina served as Chairman and CEO of Codina Group, a South Florida-based commercial real estate firm, which he founded in 1979. Under his leadership the firm grew to be Florida's largest privately-held commercial real estate company. In 2006, Mr. Codina merged his firm with Flagler Development Group, part of Florida East Coast Industries, Inc. (NYSE: FLA). In July 2007, FECI was sold to a private equity firm.
In addition to serving as CEO and Chairman of his core real estate holdings, Mr. Codina is an active investor and owner of MBB Auto Group, a premium luxury retail automotive group consisting of 15 dealerships in the Northeast that include Mercedes- Benz, BMW, Land Rover, Jaguar, Audi and Toyota. He is also chairman of Kingfisher Land-Secured Bond Fund, L.P. Mr. Codina served as the Lead Director of the board of BellSouth; on the board of directors of American Airline's parent company, AMR Corporation where he served in the capacity of Lead Director until December 2013; and on the board of General Motors. He recently served on the board of The Home Depot. In addition, Mr. Codina has served several  professional, civic, and educational organizations, including as a Board of Trustees member of the Urban Institute, and as Chair of the Town Square Neighborhood Development Corporation. He is a Chairman Emeritus of Florida International University, Co-Founder of the Community Partnership for the Homeless, is a member of the Florida Council of 100, among others. Mr. Codina has received numerous accolades and recognitions over the years, including induction into the NSU Huizenga College Entrepreneur and Business Hall of Fame, and was honored with the renowned Humanitarian of The Year Award in 2022 by the American Jewish Committee.