Codina Partners pays off construction loan at 5350 Park condo tower at Downtown Doral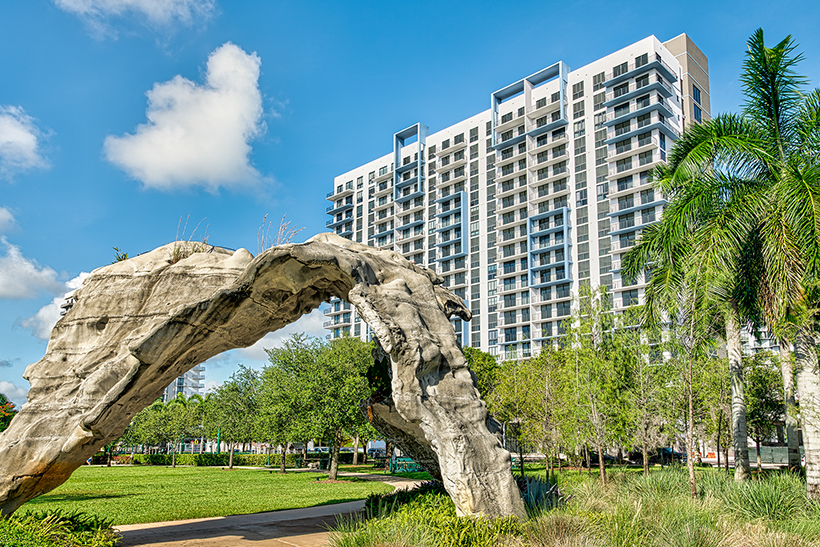 Doral, Fla. (July 6, 2020)- Real estate development, investment, and property management firm Codina Partners recently paid off the $32 million construction loan for 5350 Park luxury condominium tower in Downtown Doral.
"I commend our sales team with Fortune International Realty for consistently closing units at 5350 Park amid the pandemic," said Andy Burnham, President and COO at Codina Partners. "5350 Park at Downtown Doral continues to garner interest from buyers and brokers alike for the towers high-end finishes and location paired with the community's walkability and amenities."
The 20-story building was designed by Cohen, Freedman, Encinosa & Associates, and features interiors by Giorgio Ferrara. 5350 Park is comprised of 238 exclusive residences from studios to three-bedrooms. Fortune International Realty is the sales agency for the tower that is now more than 92% sold. The remaining units are two-bedroom, two-bathroom floorplans as well as three-bedroom, three-bathroom floorplans priced from the $500,000s.
The tower features select units with adjacent studios to one- and two-bedroom residences. The adjacent studio comes complete with a private bath and separate entry, making the space flexible for buyers looking to accommodate out-of-town guests, a growing family, or a personal office. The units also showcase floor to ceiling windows.
Amenities at 5350 Park include a resort-style pool with private cabanas, a state-of-the-art gym overlooking Downtown Doral Park and a play area for children. The building also has a dedicated massage parlor and sauna, as well as event rooms with spacing for catering, and more – all in a green community. The building's common areas all feature high-speed internet.
5350 Park residents enjoy the town center lifestyle at Downtown Doral. The tower is steps from the shops at Downtown Doral, which include Spanish restaurant Bulla, Japanese restaurant Dragonfly, Italian fusion restaurant Gusto Risto Bar, The UPS Store, and many more convenient destinations. The community also features a Class A office park; the top-rated Downtown Doral Charter Elementary School, which offer dual-language programs in Spanish and Portuguese; and the award-winning Downtown Doral Charter Upper School. Residents and visitors alike can also enjoy the outdoors at the 4.5-acre Downtown Doral Park.
For more information on 5350 Park, call 305-392-5800 or visit www.5350Park.com. Follow at 5350 Park on Facebook and Instagram @5350Park.
###
About Downtown Doral
Downtown Doral is Miami's premier town center, a vibrant community of culture and commerce, located at the heart of access to almost everywhere. Neighborhoods, offices, homes, an award-winning school, restaurants
and shops that offer a new quality of life—totally walkable, connected, artfully designed, green and gracious. The 250-acre mixed-use development features The Shops at Downtown Doral- 70 trendy shops and restaurants; The Offices at Downtown Doral- a bustling business district with almost 1 million square feet of Class-A office space; and 5,000 luxurious residential units including 5350 Park condo tower and Canarias in The Residences at Downtown Doral; Downtown Doral Charter Elementary School- a top-rated bilingual charter elementary school; Downtown Doral Charter Upper School; Doral Government Center- a LEED- certified city hall; and public green spaces adorned with world-class art pieces. Learn more at www.downtowndoral.com or follow @DowntownDoral on Facebook and Twitter and @DowntownDoralLife on Instagram.
About Codina Partners
Codina Partners is a distinguished real estate development, management, and investment firm, that combines transparency and authenticity to provide hospitable, polished service to every client, partner, and stakeholder it serves. Led by an experienced, visionary leadership team, Codina Partners has distinguished itself from other developers and managers by recognizing overlooked opportunities, leaving every community better than they found it, delivering above and beyond service, and producing high-quality work resulting in successful outcomes. Codina Partners' development and management portfolio includes notable mixed-use and industrial projects such as Downtown Doral, 2020 Salzedo and Beacon Logistics Park. To learn about Codina Partner's integrated services, visit www.codina.com or call 305-529-1300.
Share this article