Armando Codina proposes 'sky home' tower in Coral Gables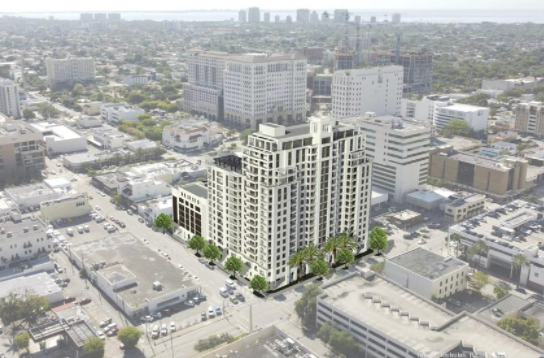 Codina Partners Chairman Armando Codina said the idea for Regency Tower started with him deciding to build a high-end apartment for himself.
"My daughters grew up in a big house on the water in Coral Gables and it's 20-something years old now," Codina said. "It's just my wife and I. We weren't looking to downsize. We were looking to right size."
Codina doesn't want to live in a condo run by an association, so he decided to build a luxury apartment with the same comforts as a home and high-end amenities.
His company will soon seek approval for Regency Residences, where he will occupy the top-floor penthouse.
The city's Development Review Committee on Oct. 5 will consider plans for Regency Tower on the 1.75-acre site at 2601 Salzedo St. The property was acquired by C/LeJeune LLC, an affiliate of Codina Partners in Coral Gables, in April as part of a land swap with the city and an auto dealership.
The project would total 329,197 square feet in 18 stories, with 176 residential units, a 4,050-square-foot restaurant, and 389 parking spaces. Codina said the number of residential units is flexible, as some apartments may be combined to make them larger. Many of the people interested in the building want larger units, called "sky homes," Codina said.
He was originally going to put three condos each on the four floors below his penthouse. Now, he may end up leasing out each floor individually, Codina said. The floors are 10,000 to 12,000 square feet each.
The larger apartments will be leased only on a multiyear basis, as people want to have security that they can stay there a long time, Codina added. Tenants will also have feedback on the unit design while the building is under construction.
"For people who are leaving houses, this will be the last place they will live," Codina said. "They don't want to be on short-term leases."
The smaller apartments will range from 1,500 square feet with two bedrooms to 3,000 square feet with four bedrooms. They will be available on annual or multiyear leases.
Regency Tower will also have some smaller apartments only for building staff, such as an engineer, to live in so they can be on site more often, Codina said.
Amenities in Regency Tower would include a pool deck with a resort-style pool and a lap pool, two Zoom rooms, a library, a theater room, a private meeting room, a dog spa, a fitness center, a social room with a catering kitchen, and a summer kitchen.
The project was designed by Coral Gables-based Nicholas, Brosch, Wurst, Wolfe Associates.
If Coral Gables officials approve the project, Codina said he would be ready to start site work in early 2022.
Courtesy of South Florida Business Journal.
Share this article