The Innovators: Codina Partners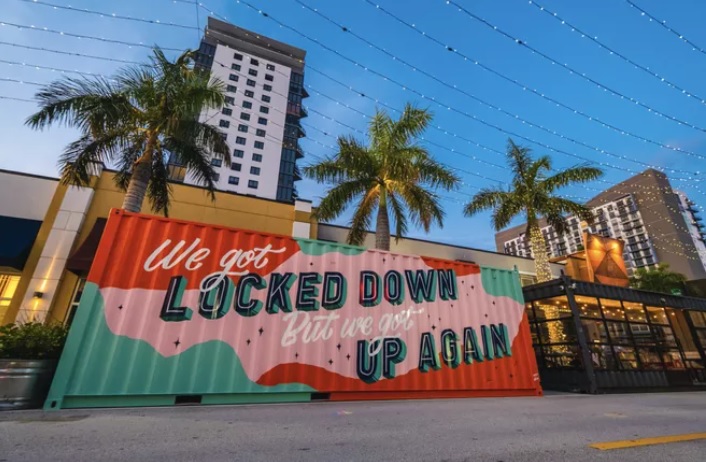 In this series, Bisnow highlights people and companies pushing the commercial real estate industry forward in myriad ways. Click here to read Q&As with all the innovators Bisnow has interviewed so far.
By 1979, Armando Codina had already pioneered the field of data processing for doctors' offices when he founded Codina Group, which he grew into Florida's largest privately held commercial real estate company.
He later merged it with another to eventually be sold off to Fortress Investment Group. In 2009, he teamed up with his daughter, Ana-Marie Codina Barlick — who by then had earned her MBA from Massachusetts Institute of Technology's Sloan School of Management and worked at several other commercial real estate firms — to found Codina Partners.
The Codinas developed a portfolio of offices, industrial complexes, and retail and residential projects. About five years ago, they opened Downtown Doral, a mixed-use development — essentially a small city — on 250 acres. It includes 5,000 residential units (houses, townhouses, condos and apartments), 1.5M SF of office space across five buildings, and 70 shops and restaurants with a focus on independent stores over chains.
In a unique arrangement with the local school board, Codina Partners also built two multilingual charter schools, which Codina Barlick plays a role in running, that are top-ranked and tuition-free. It also built the LEED-certified City Hall.
Its efforts to support tenants during the pandemic were creative and unique, such as hiring musicians to go door to door in its residential properties, providing storage units for its restaurant tenants to remove furniture for social distancing and building an outdoor theater and hosting a live performance of The Nutcracker.
Codina's extraordinary contributions to the Doral community and its efforts to build community and keep fun alive even during the pandemic make it a Bisnow innovator.
Codina Partners CEO Ana-Marie Codina Barlick in Doral, Florida.
This interview has been edited and condensed for clarity.
Bisnow: You did something counterintuitive during the pandemic. When everyone was emphasizing social distancing, you brought people together through programming, hashtagged #DowntownDoralLive. How did that come about? 
Codina Barlick: During that initial period, what we really wanted to focus on was what little things can we do to help the community? Because obviously nobody can leave their house, we can't plan anything big, but we started with some entertainment, roving entertainment events, through our residential project. We started with a brass band of musicians — a music teacher from our charter school had a band and all his gigs had been canceled. So we started as a small way to spread some joy and also help local artists.
We had a series of these little events, roaming through the community. Then, since our restaurants were only allowed takeout, we partnered with them. We paid for meals, to offer our free and reduced lunch students free meals on the weekends as well. So we were able to help our tenants while helping the community at the same time.
As things progressed, the big realization for our business was this whole concept of outdoors. We could have outdoor dining once the authorities and the scientists figured out that outdoors was pretty safe, and said, 'Well, we need to mobilize very quickly to maximize capacity.' A lot of people moved very quickly all over the country to pivot to outdoor dining. Ours was just at a much larger scale. We weren't just taking a row of parallel parking; we actually were able to close the entire street where all of our shops and restaurants are, originally for 90 days but it'll end up that we'll have had it closed for 10 months by the time we reopen it after Fourth of July weekend.
But we didn't just close the street and tell the restaurants, 'OK, here you go, you have more space.' We, on our account, as the landlord, paid for everything. We did the Maintenance of Traffic permit with the city. We paid for tents, shipping containers. We did murals on shipping containers, art installations, programming, and we've refreshed and rotated throughout the pandemic, to make it not just outdoor dining, but to create an outdoor entertainment and leisure experience where people felt safe.
I do think the most innovative thing that was probably done in the pandemic period from the art side was The Nutcracker in Downtown Doral. I think it's hard for people to understand how big an undertaking that was — for the city of Doral, the public sector; a private developer, which was us; and Miami City Ballet and Baptist Health to bring live performance in December, which was really the height of the pandemic, and be able to pull off two weeks of in-person live performance. We literally had to build an outdoor theater, figure out social distancing, figure out how to keep the artists safe. There was not one Covid case during the entire run.
Bisnow: A lot of other developers would have said, 'Why would I do that?' Their brains would just be screaming, 'Liability! What if somebody catches Covid-19?' 
Codina Barlick: Half the time, we thought we were crazy, but on the other hand, I do think we came to the realization that live performance is not conducive to digital … We're in Florida; it would have been illegal to do it anywhere else, so I don't think there was a lot of liability.
Baptist Health was testing the cast and the crew every single day. The audience was required to wear masks. You couldn't buy a ticket, you had to buy a pod, so you had to go with your group. There were disclaimers … We didn't serve food; we didn't have drinks. I think because of Baptist's involvement and all of the medical advice that we had, we really felt confident that we were doing it the right way.
An art installation at Downtown Doral during the coronavirus pandemic.
Bisnow: How much of your retail space stayed occupied throughout the pandemic? Did you offer rent relief? 
Codina Barlick: We pretty much stayed occupied during the pandemic. There's only one smaller tenant that wasn't doing well before [the pandemic] who vacated. We worked with every single one of our tenants and it was not necessarily the same across the board. We restructured their leases and their rent. Others asked for different concessions, but our goal was to keep people in business, so we never took a hard line with anybody, especially during the shutdown. Our thinking was: This is not their fault. How do we help their business thrive?
But a key component of that — helping with the rent and restructuring the leases was important, but I really think the programming that we did, the outdoor, the street closure — after a certain point they didn't really need the rent relief because our numbers were back to pre-Covid levels. [That was] by late fall, because of the additional capacity and the fact that we were attracting a larger audience with what we did.
By Thanksgiving, and pretty much since then, our restaurants have been at or above pre-Covid levels, and that's considering that we've completely shifted the business model. Downtown Doral being in Airport West, which is the largest employment center in Miami-Dade County, was always a big lunch crowd and a lot of corporate events. Obviously, that is still very weak, but the restaurants have been able to replace that lost revenue with much stronger evening and weekend traffic. They just created a completely different experience, and probably different customers.
Outdoor dining at Downtown Doral.
Bisnow: Your school concept — building and overseeing two top-rated charter schools as part of the draw for the community — is one of the most innovative things in commercial real estate development. Can you explain how you set up the school?
Codina Barlick: We have the elementary school, which goes from PK3 to fifth grade, and then we have the upper school that's from sixth to 12th grade. There's two sides. There's the real estate and the operating side.
For the elementary school, on the real estate side, there was a very complex ground lease transaction we went through with the school board where we donated the land to them, we got some impact credits, we built the school and we leased the land back from them after donating it, and then built the school. They also are our management company, so on the operating side they receive fees, and they help us with back-of-house reporting. But the [oversight] of the school is handled by a nonprofit board — a nonprofit, independent 501(c)3.
For the high school, we didn't go through the complicated real estate transaction with the school board. The 501(c)3 owns the land and owns the improvements on the land, the facility, but Miami-Dade County Public Schools is still our management company. On the real estate side, it was a little more traditional. Codina donated the land to the nonprofit, the nonprofit issued bonds to construct the school, and they own their school and they own their facility.
The program is a bilingual, bicultural program. We offer Spanish and Portuguese, and starting in the fall we will add French. So our students are completely bilingual in whichever foreign language they've taken and obviously English. It's been highly successful, very complicated. It takes a lot of work. You need very strong leadership to pull it off, so I don't know how easy it is to replicate.
There's a huge economic benefit to our residents and people in the surrounding area to have access to a high-quality school that's tuition-free. But the biggest intangible I would say, even from a real estate aspect, is our elementary school is right in the middle of the project, and it gave a sense of community-building … To have families coming in and out every day, the fact that it's in the middle, people walking from the residential — it just changed the feeling of the community really overnight.
We really want all of the pieces of our community working together. The school shouldn't just be a place where people who live there can go to school — they should be involved in helping plan cultural events. We work with our music department when we do [events]. The students did the Samsung Innovation Challenge and worked on street flooding with us as a developer, and also with the city of Doral. It's really the heart of the community and our involvement just helps keep everyone integrated and working together.
Bisnow: What was your role in guiding the school operation through the pandemic?
Codina Barlick: I chair the board. In the spring, we were ordered to shut down like everyone else [and] send everybody home during the summer. The board works with the head of school very closely, and we probably came up with 50 different plans, not knowing which one we were going to have to implement — whether people were going to stay home or have hybrid learning.
It was a big technological investment to be putting cameras in the classrooms, training teachers to be able to teach hybrid, adding air filtration, deciding how many students can be there at the same time … but we were able to reopen for in-person before public schools were able to reopen, since last fall, and we've been open the whole year, pretty much.
Codina Partners CEO Ana-Marie Codina Barlick
Bisnow: What else are you working on? You have a high-end rental project in Coral Gables geared toward families who are rightsizing from large homes, where you will offer five-year leases.
Codina Barlick: That's probably the most innovative thing we're doing right now, because it hasn't really been done before. Definitely not in South Florida — an ultra-high-end rental building where the focus is on longer-term leases.
The market that we're targeting is people in the surrounding area — Pinecrest, Coral Gables — who've lived in the same house for many years, their children are growing up. It's a great time to sell a single-family home right now, and they really don't want to take that money and put it into an expensive condominium. They'd rather invest or do other things with the money.
If the developer customizes the unit for a person, you obviously don't want it to roll over every year. And if you pay the moving expenses and move and fix the place up the way you want it, you also don't want to have to renegotiate the rent every year. So we think it's a win-win for the landlord and for the tenants.
Bisnow: How do you and your dad divide responsibilities?
Codina Barlick [chuckling]: It's a pretty simple formula, which is: He picks what he wants to do and what's fun, because he's earned that right, and I'll do whatever else needs to be done.
Courtesy of Bisnow.
Share this article